Sign up for Team Kiwi here, if you haven't done so already!

The rules can be found at Yarn Harlot.

Team Kiwi buttons supplied by the wonderful
crazycatladymel:





Also, shout outs to Jussi who made this button: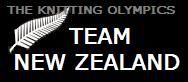 Thanks Jussi!

Edit: Just looked up the time difference between Torino and here. The opening ceremony kicks off at 8pm February 11. That will be 8am Saturday 11 February for us. We actually have a bit of an edge over everyone else, as we will have more daylight hours to complete our knitting in!

I've postdated this so it stays up the top.